Becca Huffer: Notre Dame golfer chasing her LPGA dream
Becca Huffer not only earned her LPGA playing privileges – but she made history at her alma mater by becoming the first Notre Dame golfer to qualify for the LPGA.
Becca Huffer had a dream and she won't let it go. After graduating from Notre Dame in 2012, Huffer chased her dream on the Symetra Tour. Starting in 2013, she competed her way and worked hard for five years to claim her spot on the LPGA Tour with those she competed against in college.
Huffer started and ended her NCAA with my favorite team of all time, the University of Notre Dame's Fighting Irish. Huffer claimed the Captain spot for the Irish and was a two-time MVP on the team.
Even with the amazing athletes coming in and out of this team, Huffer is the first in the thirty-year Fighting Irish history to qualify for the LPGA Tour!
Head Coach Susan Holt knows what it took for Huffer to achieve this accomplishment.
I'm so incredibly proud of Becca for achieving her ultimate goal of earning full status on the LPGA Tour. She has dedicated her life to this goal since graduating from Notre Dame and her patience and persistence has paid off. Becca has battled through some injuries over the years which makes this accomplishment even more meaningful for her I'm sure. This is a great day for Notre Dame women's golf and will show our current and future players that with a lot of hard work and a committed approach they too can achieve this goal if it is the path they choose.

While Becca is incredibly talented, she is an even better person. I am confident she will be a great representative of Notre Dame on the LPGA Tour. She is the first Notre Dame golfer to earn an LPGA Tour card and no one can ever take that away from her. We are looking forward to following her success on the tour.
Huffer led her team to a NCAA National Championship in 2011 but fell short, landing in 24th place. Huffer's career was far from done after her time at Notre Dame. After she graduated she played on the Cactus Tour, winning three times, and in 2013 won the Colorado Women's Open.
She also played on Symetra Tour in 2013 bu started hitting it hard in 2014.
Starting her rookie career officially in 2013, Huffer can official call herself a pro after five years of grinding it out to stay relevant and on top.
Overall on the Symetra tour Huffer has ten career top-tens, three coming from just 2018. Huffer competed in the new Q-Series with the top talent on the NCAA circuit and the Symetra Tour. Starting off rough in the first two rounds landing at T-78, Huffer fought back to land at T-14 in the fifth round.
The Q-Series sealed her way into the LPGA Tour but not without hardships.
Chasing dreams is one of the hardest things to do and Huffer felt that pressure every year on the Symetra Tour. Keeping her goals in mind she fought through the hardships but there were always doubts that it wouldn't happen. Before a pro-am tournament at Blackthorn Huffer shared some of those thoughts with the South Bend Tribune's Tom Noie.
"If I hit a point where I'm not improving or couldn't compete against the people out here, it would be different," Huffer said during a quiet moment on a quiet morning outside the Blackthorn clubhouse Thursday before the pre-tournament pro-am. "It's been hard. I still think I'm at that level. I just have to get there."
Just like I do with all my Irish athletics, I'll be cheering my heart out for Huffer on the tour.
Becca Huffer is not only an inspiration to the girls chasing the same dreams on the NCAA and Symetra circuit but for those little girls who have the dream of playing in the LPGA. We wish nothing but the best for you, Becca!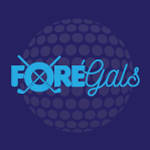 LPGA Tour
Paid Contributor, ForeGals
Our contributors are tasked with helping FanSided provide the best content on the Internet for their respective fandoms. In this independent contractor role, we are looking for contributors that can express their knowledge on specific topics and take the conversation further. In exchange, these contributors will be compensated for their work based on the performance of their articles.
Follow us on Twitter @ForeGals and @KaitlynONeill06 and like the ForeGals Facebook page so you can join our conversation about the women's game and the women and girls who play it.