Juli Inkster: Guts, glory, and the agony of defeat in Chicago
Juli Inkster is the quintessential competitor but she came up short at the U.S. Senior Women's Open, despite her best efforts at preparation.
Juli Inkster made no bones about it. She wanted to win this one. And she did everything in her power to be ready for the inaugural U.S. Senior Women's Open challenge.
The 58-year old Hall of Famer, three-time U.S. Amateur and two-time U.S. Women's Open champion knows what it takes to win a major championship. Nine-time Solheim Cup competitor and inarguably the most popular and most successful team captain in Solheim Cup history, Juli Inkster doesn't get sweaty hands when she makes a clutch putt.
Inkster doesn't just love competition. She embraces it and relishes it!
Getting tournament-tough
Between April and July Inkster made nine starts at LPGA events, beginning with the Founder's Cup. Inkster missed the cut in Phoenix, but that was the week we all got a glimpse of what was to come. Dame Laura Davies finished alongside Marina Alex at T2, just below Inbee Park but ahead of two of the game's young stars, Ariya Jutanugarn and In Gee Chun.
Inkster was undeterred. From Phoenix she went on the Kia Classic, then the ANA Inspiration, and the LA Open. She kept missing cuts.
But Dame Laura was having her own problems after Phoenix. She was struggling with an Achilles tendon injury. While she tried to play, even heavily taped up she couldn't manage walking. She withdrew from the Kia Classic. Like Inkster, Davies missed the ANA Inspiration cut, and withdrew from the Mediheal Championship.
Things came together for Inkster at the Mediheal. She made the cut and got in four solid rounds, but then missed four consecutive cuts at Tour events in May and June.
Davies made more starts than Inkster in May and June, in the 10 weeks of critical conditioning leading up to the U.S. Senior Women's Open. She made seven starts and played the weekend at three events.
That gave Dame Laura a total of 20 competitive rounds in the 10 weeks leading up to Chicago. By contrast, Juli Inkster played only eight competitive rounds during the same period.
Like it or not, although their games are roughly equivalent in terms of playing stats, Dame Laura's game was more tournament-ready.
Equivalent playing stats
Coming in to Chicago, Inkster was averaging 241 yards off the tee to Dame Laura's 261 yards. Inkster was hitting 73% of her fairways while Dame Laura was hitting only 58%. So whatever advantage Davies might have gotten on her tee shots was neutralized by Inkster's more accurate drives.
Inside 130 yards or so, they were playing equivalent games. Inkster was hitting 62% of the greens in regulation while Davies was hitting 63%. And with them both averaging right at 30 putts per round, they looked like very evenly matched competitors.
Where it broke down for Juli Inkster
As their final scores at the Championship show, that equivalence in their games didn't carry into the Chicago Golf Club. Although USGA doesn't provide basic playing stats, a count of birdies and bogeys tells the story.
Dame Laura recorded 2 eagles and 18 birdies during her 72 holes at the Chicago Golf Club. She also recorded four bogeys and a double.
Inkster, in comparison, recorded a single eagle, 16 birdies, 10 bogeys, and a double. Her putter failed her when she most needed it to outperform Dame Laura.
Would Juli Inkster have avoided some of those bogeys, particularly that devastating double on the par-3 13th on Sunday afternoon, if her game had been more tournament ready? We'll never know. But what I do know is that despite her best efforts Juli Inkster wasn't quite as tournament-tough as Laura Davies.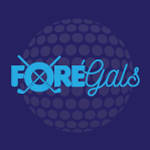 Apply to ForeGals.
Start your application process by filling out the fields below
Dame Laura gained those stunning 10 strokes over Juli Inkster on the putting surface, in that part of the game where mental conditioning is paramount. Davies' physical stamina and mental strength came from those 12 additional competitive rounds she played in the weeks before Chicago. When she had to dig deep, there was still some game in her bag.