Shanshan Feng: Setting the record straight for ESPN
Shanshan Feng has earned better than she received from the ESPN broadcast booth at the Masters.
Shanshan Feng is China's highest ranked golfer. She's also the highest ranked woman golfer in the world.
I was stunned when the ESPN commentator opined on Thursday during the first round of the Masters Tournament that Haotong Li was the game's highest ranked Chinese player.
Li has been playing pro golf since 2011. He's played on the PGA Tour China and Web.com Tour and currently plays on the European Tour. Li has six pro victories on his resume and is currently ranked 42nd by the OWGR. This year is Li's first Masters Tournament appearance and his highest finish in a major championship came at the 2017 Royal Birkdale Open Championship. He finished third. (Jordan Spieth won.)
Shanshan, who turned pro in 2007, holds playing cards for both the LPGA and Ladies European Tour. She has 22 worldwide pro victories on her résumé, including a major title, the 2012 Women's PGA Championship. Feng has earned nine LPGA titles, seven each at Ladies European Tour and LPGA of Japan events, and the 2012 World Ladies Championship team event.
She earned the Ladies European Tour 2015 Order of Merit.
Feng also represented China at the 2016 Rio Olympics, where she was the bronze medalist. And she played on the Chinese team at the 2016 UL International Crown.
Shanshan Feng has been at the top of the world rankings for 21 weeks. She is not exactly an invisible figure in the world of professional sports.
Thank goodness Dottie Pepper was working the Masters Tournament for ESPN. She managed to slide in an on-air correction, but the sting of the slight doesn't quickly or easily dissipate. Shanshan Feng has earned equitable treatment and the women's game deserves better than it received Thursday during the ESPN Master's commentary.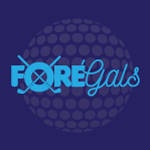 ForeGals hopes that in the future the broadcast commentators will take a more inclusive approach to their observations about the game.