Golf Visualizing: When my mind wanders, I'm visualizing a golf shot!
Visualizing golf shots or even an entire round works just as well for recreational golfers as it does for the pros!
Visualizing a golf shot or event an entire round is a very pleasant pastime. It can also be a very useful technique for strengthening my mental game, refining club selection, and even sharpening course management skills.
Here's how it works for me.
Closing my eyes, I am visualizing standing on the tee box of hole #4 of my home course. It's a nice Par 3 placed in a valley with a creek babbling along between the tee box and the short fairway, a half pond, running laterally along the left hand side of the fairway. A sand trap sits to the right front of the green, where a turtle often lays her eggs every spring. Do you have the image in your mind?
I have a 122 yard reading, and I've picked out my 6 iron. The wind tends to whistle through the valley, and often knocks the ball down. I strike it perfectly, and as expected the rain softened shoulder holds it up a couple feet from the green. I'm safe and happy.
I take the pitching wedge from my bag. This is the shot I practiced prior to my round. Slightly brushing the 2nd cut with my wedge, once maybe twice, it's time.
I begin my backswing, everything slows down, the club strikes the ball. Nice loft, perfect distance, speed, oh the roll, it hits the pin, and it drops in!!! A chip-in birdie!
Wait a minute. Am I visualizing?
No! This was me today at exactly 12:48pm on my regularly scheduled Ladies Golf League play day. My visualization drills are starting to pay off. The mental part of this game is just as important as the physicality of golf. You need both of them working in tandem to take your game to the next level!
If you had told me five years ago that my day dreaming would revolve around visualizing golf shots, I would have laughed, and laughed, and laughed!
I recently started a part time job. I love plants, golf, oh yeah and Craig! Obviously, not in that order. Well, I'm working in a greenhouse for the spring season. They give me marching orders, and then I'm off to be with the plants. While listening to the piped in muzak, I've taken to golf visualization. The shift passes quickly!
The idea that I actually can walk through 18 holes of golf, while visualizing in my head, on a handful of courses inspires my play.
I've played enough golf in the last couple years to learn a thing or two about a handful of tracks. I highly recommend signing up for Local Ladies Interclub Leagues.
I play new courses and meet new ladies who share my love of golf. For a mere $28-$35 dollars I am able to play golf on some really nice courses, get lunch, and sometimes win a couple bucks!
You might just find your next Member-Guest partner. Or, a fabulous woman who asks you to write for a new golf blog. Maybe I visualized that too!
So, give visualizing some golf shots a try!
It's a free extra club in your bag.
The game challenges you both mentally and physically. Always remember to be a great steward of the game, and it will be good to you. Let golf bring out the best in you!
I visualized myself right into a 92 today, and my team came in second place. Thanks Bess, Gracie, and Kat for an awesome day!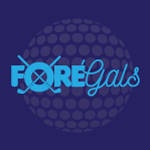 When the golf bug bites, it changes your life. Check out my profile on ForeGals about DInah Shore, and how golf changed her life, and she in turn changed ladies golf.