Kate Hepburn: We all knew she had a great swing!
Kate Hepburn had a classic golf swing, both on-screen and off. Padraig Harrington got it. Sergio Garcia didn't.
Kate Hepburn was swinging the sticks long before she took her game to the silver screen in 1952.
The tomboy who cut off her hair and called herself Jimmy loved to swim, ride horses, and play both tennis and golf. She was good enough to compete in state-level amateur championships as a teenager. And she remained good enough to match Howard Hughes shot for shot in their furtive courtship qua golf matches at the Wilshire Country Club during the 1950s. (They were both close to scratch golfers.)
It was a moment when golf was being transformed by Ben Hogan and Ken Venturi and the young, sexualized Arnold Palmer. The women's game was just emerging on the pro stage with Babe Zaharias and Patty Berg, Helen Hicks and Louise Suggs leading the charge!
It was the right moment for a movie about women's golf and Kate Hepburn was the right person to take the lead in that movie. (She needed no coaching or training!)
In Pat and Mike, Hepburn teed it up with Babe Zaharias on set at the Riviera Country Club and delivered a more-than-credible performance as an amateur golfer who aspired to a pro career.
There's a photograph of Hepburn, wrists cocked and ready to take a swing, taken during the filming of Pat and Mike, hanging in the Riviera clubhouse.
Padraig Harrington happened to be chatting with some sportswriters about his shoulder problems one dat at Riviera when that photo caught his eye, as Golf Channel's Doug Ferguson tells the story.
Harrington paused in his personal lamentations to reflect on Kate Hepburn's golf style:
If you can waggle like that, you can play golf. She's able to hit the golf ball. That's how you tell. That's old-school. That's what Hogan used to do.
Sergio Garcia came strolling through the Riveria clubhouse later in the afternoon. The sportswriters were primed and asked the Spaniard for his impression of the Hepburn photo. "Her skirt's too long" was his smiling observation.
We all knew Kate Hepburn could play golf. I don't quite understand how Sergio missed that aspect of the photograph.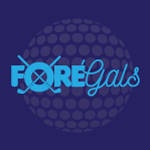 Are you a Pat and Mike fan? Have you seen The Founders? What's your favorite golf movie?